Testimonials from Happy Couples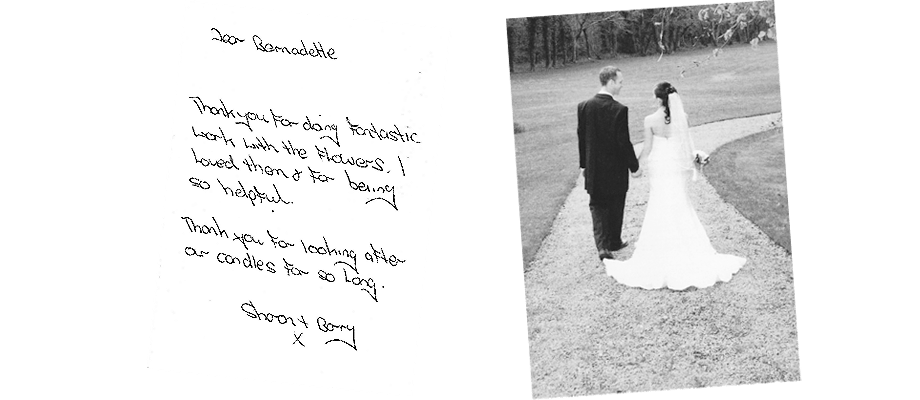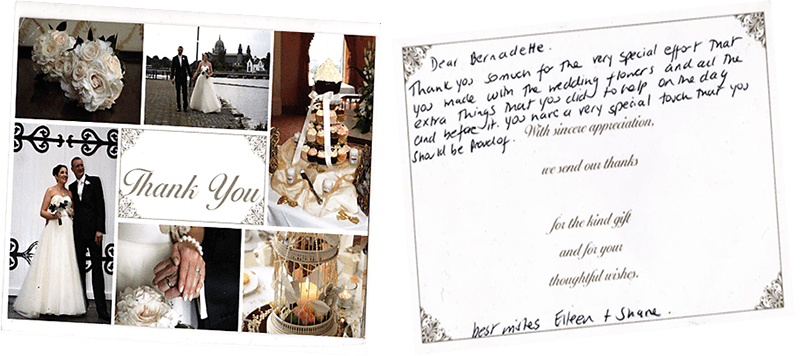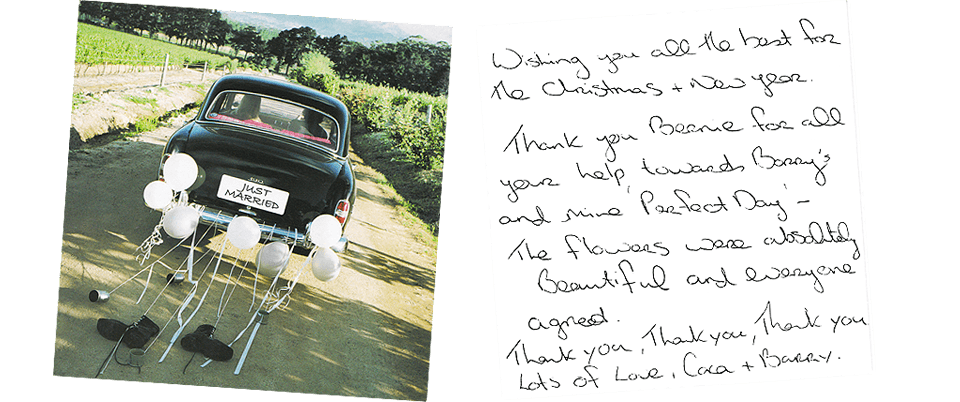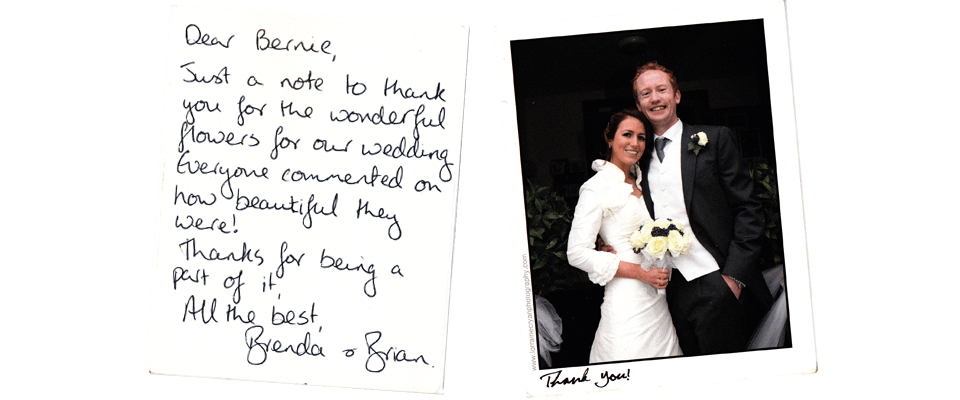 Dear Bernadette,
Just wanted to say thank you. I loved our flowers for the wedding. I was so happy with my bouquet and loved the colours in the bridesmaids too. It's funny on the day you don't take things in, but after looking at the photos in the church, they were beautiful. You did a great job and thanks for all the help in the months leading up to the wedding.
Thanks again!
Sagel and Zaini
Hi Bernadette,
I just wanted to drop you a little message to say thank you for the beautiful flowers on Saturday. I was so taken aback by them I nearly cried, as you saw. Everyone commented on the church flowers and the beautiful bouquets. They were exactly what I asked for and more.
Thanks again Bernadette,
Rachel and John
Hi Bernadette,
Just a little mail to say thank you so much for the wonderful job you did on the flowers for our wedding. They were absolutely perfect. They got so many compliments from guests too and some of them really know their flowers! You were a pleasure to work with. My mother also asked me to pass on her compliments to you for a job very well done.
Regards,
Annmarie
Dear Bernadette,
Padraig and I wish to sincerely thank you for the fabulous job you did with our flowers for our big day. We were just so thrilled with everything. You did a fantastic job and we can't thank you enough. Everyone admired them. Thank you for helping to make our day so special. We are highly recommending you to friends and family who are getting married as we know you won't disappoint.
Kind regards, Anita and Padraig
Hi Bernadette,
Just a short note to say a big thank you for a job well done. I never thought that I would have got such fab bouquets on such a tight budget and thank you for all your advice. I was all over the place when it came to the flowers but on our meeting you sorted it all out for me and I was very happy with the end result. I will definitely be recommending you to my friends and also thank you for sorting my bouquet out on the day when my dad sat on them. O my god if you weren't there I don't know what I would have done. Your patience and professionalism shone through and also thank you for your wedding card. You have a personal touch and a way with making a person feel comfortable in your company – you know your work.
Yours sincerely,
Clare and Simon
Dear Bernadette,
I just want to thank you most sincerely for making such a wonderful job of the flowers for our special day. Everyone was mad about them. I was just wondering could you leave some business cards into me in the shop as so many asked after your number. The one card I had I gave to my best friend Joanna. She will be in contact with you as she is getting married in December and she was just blown away with your classy style and attention to every detail.
Thanks again.
Yours sincerely, Sharon and Steve
Dear Bernadette,
Thank you so much for all your hard work with all the flowers for our wedding day. They were beautiful.
Thanks again.
Michelle and Dave.